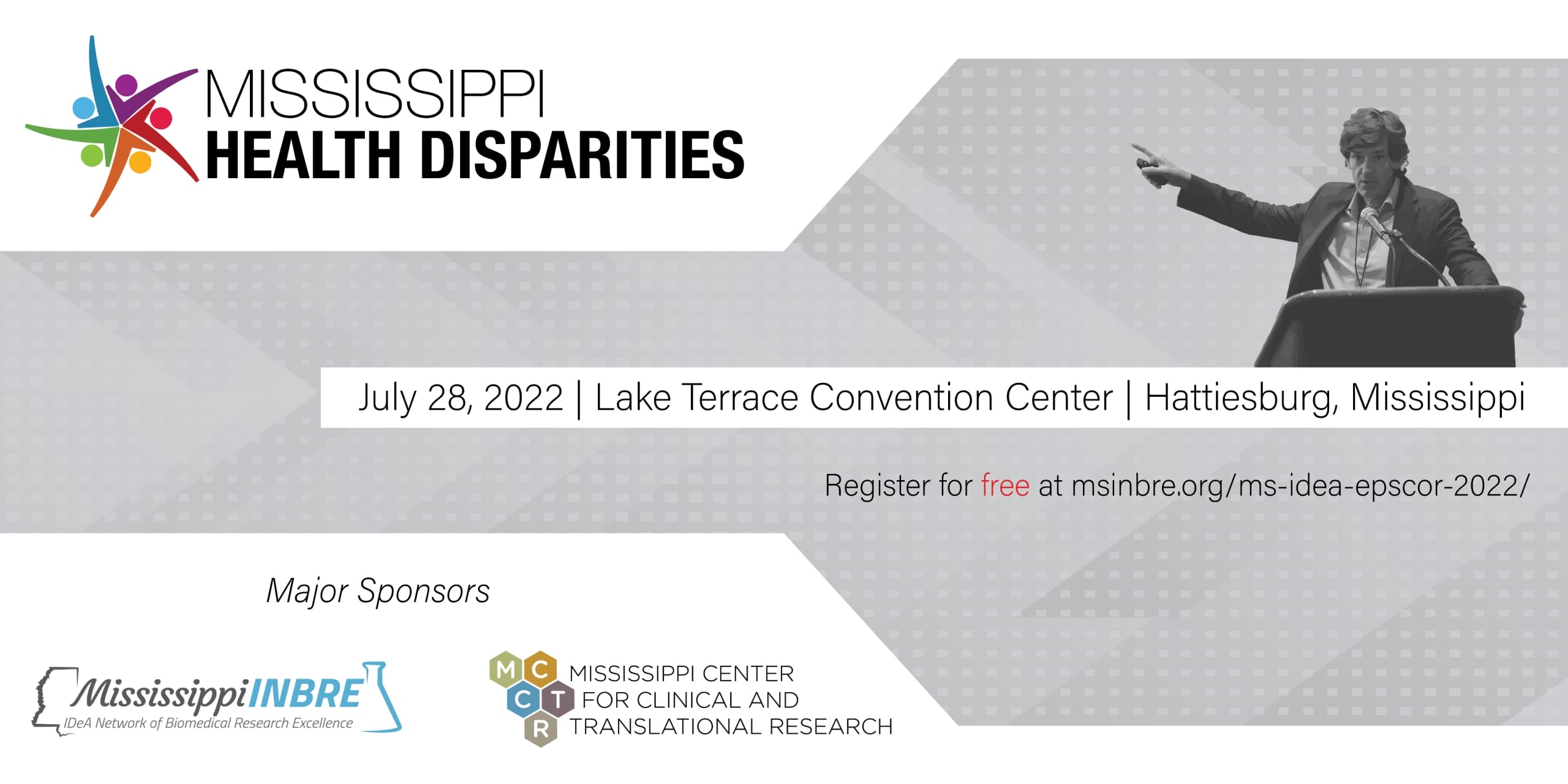 *Attention*
Mississippi Health Disparities 2022 (MHD2022) will no longer be held on September 8-9, 2022, at the Mississippi Coast Convention Center in Biloxi, Mississippi. MHD2022 is joining forces with the Mississippi IDeA Conference and Mississippi EPSCoR, together making Mississippi IDeA/EPSCoR Conference 2022, featuring MHD2022. MHD2022 will now make its return on Thursday, July 28, 2022, at the Lake Terrace Convention Center in Hattiesburg, Mississippi.
The biomedical research, science & engineering, and MHD2022 portions of the conference will be kept separate, running on individual tracks simultaneously throughout the day. The information below only applies to the MHD2022 track of the overall meeting. Any information relevant to all tracks can be found on the official Mississippi INBRE website here. We apologize for any inconvenience this has caused. However, we are excited to see the potential collaborations that may result from this unique conference organization. Thank you for your continued support of MHD2022.
---
Meeting Information:
Join us for Mississippi Health Disparities 2022 (MHD2022)! The second annual meeting will be held on Thursday, July 28, 2022, at the Lake Terrace Convention Center in Hattiesburg, Mississippi. Hosted by the Mississippi IDeA Network of Biomedical Research Excellence, MHD was founded in 2021. Our mission is to eliminate health disparities in Mississippi and create healthier, more equitable communities. MHD2022 is the premiere symposium for health professionals in Mississippi to meet and share knowledge on a variety of topics concerning health disparities.
MHD2022 will offer concurrent oral and poster sessions, student competitions, business and social networking opportunities, and an exhibitor pavilion to connect the various scientists, healthcare stakeholders, and social determinants of health leaders with a common goal to address health disparities in the Deep South.
---
Our Goal:
To disseminate high quality biomedical and behavioral research, innovative education, and evidence-based program practices aimed toward the achievement of better health and wellbeing for all Mississippians and Deep South populations.
---
Benefits of Attendance:
There will be abundant opportunities for networking with like-minded researchers, professionals, and industry leaders. MHD2022 will bring together researchers, healthcare professionals, undergraduate and graduate students, and public health professionals for innovative and strategic discussions, solutions, and partnerships to discuss the key issues listed below:
Implementation and dissemination science to address diabetes, obesity, HIV, and other cardiometabolic disease prevention and management
Social Determinants of Health as a means of reducing and eliminating health disparities
Use of technology to address access concerns in rural and underserved communities
Future solutions and innovations to address health disparities in Mississippi
---
Deadlines:
Abstract Submission: July 8, 2022
Presenters' Registration (for accurate representation in conference journal) : July 8, 2022.
General Registration (non-presenters): July 15, 2022